Objective structures
Graphene, carbon nanotubes, phosphorene and buckyballs have a peculiar structural feature that can be used in many ways for the discovery and analysis of new nanostructures.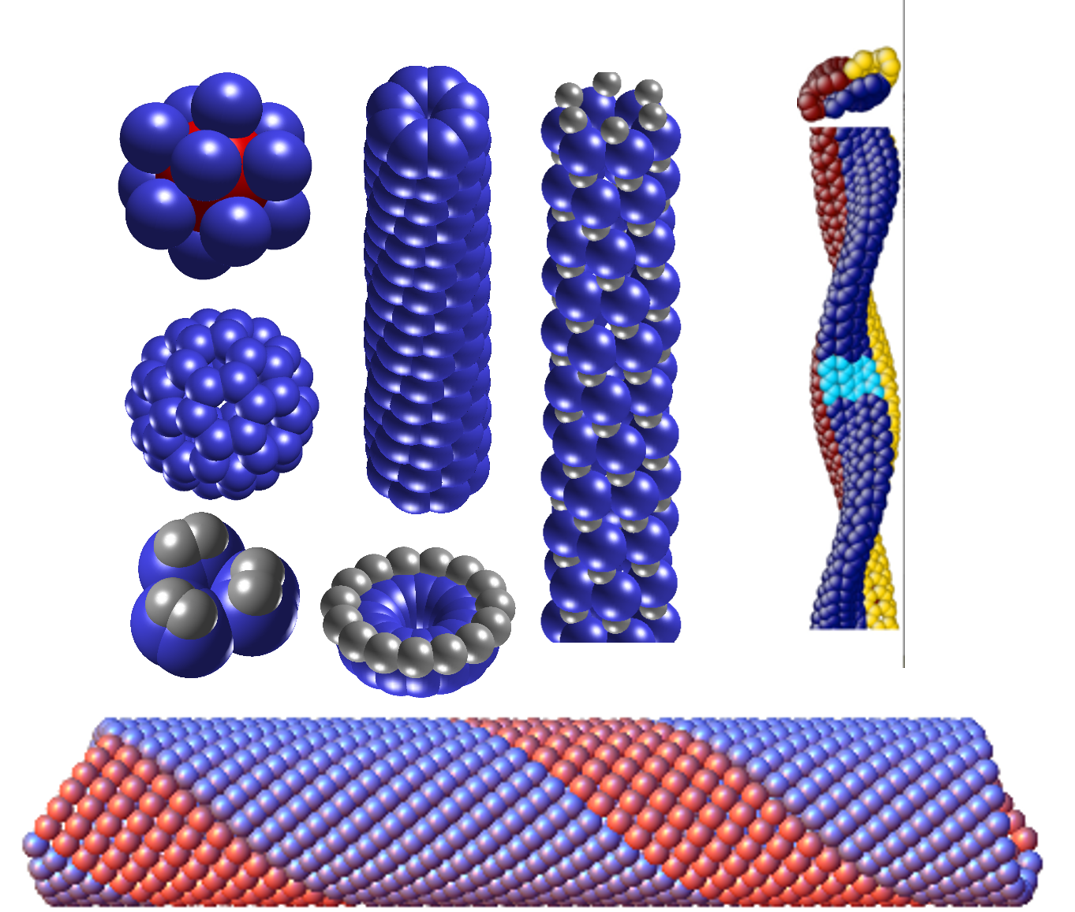 In the simplest case "Objective structures" are atomic structures with the following property. Imagine a structure consisting of identical atoms. Now imagine sitting on an atom and looking around at your environment. Nearby, you see nearest neighbors, and, as you look further, you see more and more atoms of the structure. Now go to another atom of the structure. Objective structures have the defining property that, if you reorient yourself in just the right way, you see exactly the same environment. Briefly, atoms "see identical environments". There is a natural generalization of this idea to molecular structures. What is so surprising is that many of the most intensely studied nanostructures today - graphene, single-walled carbon nanotubes of any chirality, phosphorene, buckyballs, many viral structures - have this property.
In fact there is something much deeper going on. The whole subject is much more about invariance than structure [140]. The classical equations of physics -- including also quite general versions of nonrelativistic quantum mechanics -- have invariance groups. These are groups of transformations that take a solution into a solution. A familiar group of this type is the Galilean group: orthogonal transformations and time-dependent translations with affine time dependence. It turns out that all objective structures can be generated by applying these groups to a collection of atoms. ''Applying'' means there is a rule for doing this, and there is also simple rule (called the group product) for how to multiply two Galilean transformations. But there is an added feature: due to the time dependence, the objective structures deform in time.
So, here is the game, in the case of molecular dynamics. Take any number of atoms (the ''simulated atoms'') and put them anywhere. Start them with any initial velocities. At every time-step apply the Galilean group to these atoms to get the nonsimulated atoms. Solve the equations of molecular dynamics for the simulated atoms only, accounting for the fact that the some nonsimulated atoms may be close enough to a simulated atom that we must account for the force it exerts. Now the remarkable fact: even though the simulated atoms behave highly chaotically, and quickly diffuse into the nonsimulated atoms, all atoms, simulated and nonsimulated, satisfy exactly the equations of molecular dynamics (MD) for their forces. More than that, all accepted models of continuum mechanics -- Navier-Stokes equations, nonlinear elasticity, and more complex materials -- have exact solutions for all values of the material constants that are the exact averages of these MD solutions.
We are using this property in many ways, from the design of new fast methods of doing molecular dynamics to new methods for accurate first principles calculations. In this work, we are collaborating with a broad collection of researchers from Berkeley, Caltech, Carnegie Mellon, Cornell, Georgia Tech, Lawrence Berkeley Laboratory, TU Munich, UCSB, UMN and Rome.